Area Information
The Town of Fremont is located west of Marshfield, WI. The area is home to many local dairy producers, several business establishments and the village of Chili, WI.
History of the Town of Fremont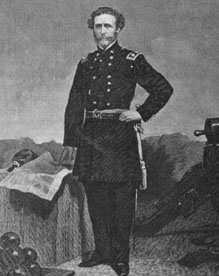 Fremont Township was the eighteenth town organized in the county, and was created by the county board of supervisors on the 11th day of March, 1874. In the order describing the boundaries of the town the county board neglected giving the new town any name. It became known as Fremont, presumably named after General John Charles Fremont, who was extremely popular at the time because of his exploration of the Great West. The town consists of township No. 25, R 1 E. The first town meeting was held at the Heathville school house.
John Charles Frémont, sometimes called "the pathmarker", was an American explorer, soldier, and political leader. He was born in Savannah, Georgia and became a skilled mathematician who taught the U.S. naval cadets before becoming an assistant on a surveying expedition (1838–39) between the upper Mississippi River and the Missouri.
He eloped with Jessie Benton, the daughter of Senator Thomas H. Benton in 1841. Once her father became reconciled to the marriage, he helped his son-in-law secure the command of an expedition to explore the Des Moines River.
The next year (1842) Frémont headed an expedition to the Rocky Mountains with Kit Carson serving as guide. His informative reports stirred wide interest in the American West.
In 1845 he returned to California and participated in a revolt against the Mexican authorities and set up (1846) the Bear Flag republic at Sonoma. Stephen W. Kearny and Commodore Robert Stockton quarreled, as both had explicit orders which placed them in command. Frémont sided with Stockton, accepting an appointment as civil governor. After Kearny received orders which indicated that Stockton was not his superior, Frémont was arrested, court-martialed, and found guilty. President Polk remitted that penalty, but Frémont, ever proud, resigned from government service.
In 1848 he led an effort to locate passes for a transcontinental railroad. His fortunes climbed once gold was discovered on his California estate, but he was deprived of some of his wealth by the trickery of others. He served as one of the first U.S. Senators from California (1850–51), and in 1856, the Republicans chose him as presidential candidate. During the Civil War he was given command of the Western Department, but was removed because of his radical policy toward slaveholders. He was given a new command, but resigned. Around 1970, his unsuccessful attempts to construct a railroad to the Pacific—accompanied by actions of his agents that roused suspicion—cost him his fortune.
Financially devastated, he struggled on, supported by his wife's earnings from writing and by an appointment as governor of the Arizona Territory (1878–1883). In 1890 he was given a belated pension for his Civil War Service, but did not live long to enjoy it. He is one of the most controversial figures of Western history. His critics called him a braggart and thief; his supporters admired his courage, his handling of men, and his sheer determination to explore the West.
John Charles Fremont's fame as the "pathmarker" was the result of his informative documentation of the West. The first Yankee explorers of the western territories, had only brought back sketchy maps. Fremont retraced the routes of the former explorers and with his skillful map making, his supremely accurate surveys helped later pioneer American's find their way West.
History of the Naming of "Chili"
By Robert Smith
If it had been a mild day in that cold, raw winter of 1881 in this Central Wisconsin town (and they do have mild winter days here – sometimes!), this community might have ended up with the name of Mild – or Tolerable, or maybe even Pleasant. But it's named Chili.
Back in 1880, when the population of the U.S. Was around a fifth its present size and James A. Garfield was elected to his short-lived presidency, the Northwestern Railroad was building a line through this area in order to service the sawmills popping up in the vicinity. One of these sawmills was built where Chili now is and became one of the larger operations in the area.
Railroad officials arrived on a cold day in 1881 to help select a name for the community. The weather was so unpleasant that the officials were reluctant to disembark, it was warmer on the train.
One of their party, anxious to get on with the naming and avoid getting off the train, came up with an idea.
"Let's call this stop Chili because it is really chilly here," he said, and that settled the matter.
Located somewhat off by itself on County Road Y in Clark County, Chili really tries to live up to its name during most cold, cold winter days – and nights. Especially nights!
History of the Chili Post Office
CHILI-CLARK COUNTY, WISCONSIN is located about the center of Wisconsin; it is 12 miles West of Marshfield, Wi. And 18 miles east of Neillsville, Wisconsin, our county seat.
About 1880 the North-Western Railroad built through this area to take care of the saw mills. There was a small mill about a mile east of where the railroad put in a siding called Cedarhurst. Another saw mill was built at the present site of Chili, and grew to be a large operation.
One cold day the railroad officials came for the purpose of selecting a name. It was so cold they did not want to get out of the train, so one of them said, "Let's call this stop Chili, because it's really chilly here."
The village was platted Nov. 13, 1891 on land owned by Ira Fike, F.C. Fike, S.E. Fike and the Neillsville Manufacturing Company. The Fikes had come to the area from Michigan a generation or so before and were logging for a Necedah firm. Whiston Davis was one of the early settlers as was P.N. Christenson, prominent Wood County pioneer whose business interests branched into Clark County, operated a saw mill here many year.
The railroad, like others hastened depletion of area's timber resources, but it helped to bring in settlers who paved the way for agricultural pursuits that followed in the path of the wood choppers. Agriculture is of greatest importance to the economy of Chili.
Other community enterprises include two grocery stores, three taverns, two hardware stores, a butcher shop, a hotel, a doctor, a dentist, a barber shop, and Art Siefert who made beer kegs for a firm in Medford. The Royal Neighbors and Modern Woodmen used to meet in the Opera House. This building was used for a Town Hall, and entertained 4-H, dances and other community affairs. A feed mill and elevator, a dairy products plant, a branch bank, religious organizations in the village were a Methodist Church, Christ Lutheran Congregation and St. Stephen's Catholic Parish. The community also had a district elementary school.
As the settlement grew, a petition, signed by 43 heads of family was signed for the establishment of Rural Free Delivery Route. This was accepted by the government as was ordered to go into effect July 15th, 1905. The Postmaster was authorized to establish R.F.D. Service from the office to commence on a Thurs. June 15th, 1905 with one carrier at a salary of $720.00 per annum, including horse for hire. The route was laid down by Rural Agent John J. Esch. Charley H. Lindow was appointed rural letter carrier on Route No. 1, which was 25 miles long.
In the year July 1, 1907 a change in salary to $900.00 per year. Edwin A. Happe was appointed substitute carrier. Ethel Hogenson was Postmaster from 1906-1948.
Carriers during the twentieth century were Herbert L. McNaul 1916-1939. Lyle Zimmerman 1943-1970. Irwin Rusch 1970-1987. Darwin Schlinsog 1987 and present (1989).
Sub. Carriers were Fred Selk, Orville Dankemeyer, Burdett McNaul, Glen Hill, Jo Hildebradt, Barbara Weatherworth, and Dale Rollins.
From the time of Dec. 15, 1930 to about 1965 a Star route was established to carrier mail on the route to Railroad stations. The route at Chili was Marshfield, by Chili, Granton, Neillsville, Black River Falls to Merrillan Railroad station. Contractors and carriers were Michael E. Wellner, Henry E. Lotzer, Harold Bauer, Marvin Menger, Franklin Stump, and Wenzel Lee.
In 1948 Donald Bersell became Postmaster of Chili and served for 27 yrs. - till 1975. He had as assistant clerks, Leone Bersell from 1953-1975 and Jo Hidebrandt from Nov. 1970 to 1980.
In June 1975 Benjamin Urlaub was appointed Officer in Charge at the Chili office on retirement of Donald Bersell. Ben Urlaub then was appointed Postmaster at Chili Jan. 3, 1976 to Oct. 6, 1976 when he went to Neillsville. Clerk Jo Hildebrandt became Officer in Charge Oct. 6, 1976 to Oct. of 1977 when Randy Klemp too over as Officer in Charge. In the year of Feb. 10, 1978 Thomas Volkman became Postmaster and served until March 23, 1979, when Carl Wendt became Officer in Charge. He served until Feb. 22, 1980 when Jo Hildebrandt was sworn in as Postmaster, and is Postmaster at the present time. (Feb. 1989).
Chili started digging for a new Post Office in Oct. 1988 and soon hope to have it finished. It is located at the corner of Chili Road and Oak St. At present the office has 300 customers and the R.F.D. Is 79 miles long.
We the people of Chili are happy and proud to have our Post-Office and little community which as of this day has prospects of growing and still consists of three churches, the Lutheran, Catholic and Methodist. Two garages, a feed mill, a beauty parlor, a tavern, a nice grocery store, a factory that produces dry cheese products and has several shifts. A large implement Corp. that services all the farmers around the community, a branch bank, and a car body repair shop, and a district elementary school.
Written by Virginia McNaul
March 4, 1989
Centennial Celebration in 1973
Centennial Celebration To Reach Peak This Weekend
1973 Newspaper Article
CHILI – The town of Fremont in Clark County with its lively little hamlet of Chili, will celebrate its centennial Saturday and Sunday, July 14 and 15. Mr. And Mrs. Albert Grimm, route 1, Chili the eldest couple active in farming will be honored in the parade on Sunday.
The town of Fremont was created from the town of Lynn in 1873 with its first meeting being held in the Heathville School the next spring. It did not grow up as a farming community with homesteads because many of the first settlers had the poorer land, while lumber companies held the best until they could harvest the choice timber. For the convenience of the lumbermen tracks of the Chicago, Milwaukee and St. Paul; Chicago, Milwaukee, Minneapolis and Omaha and the Wisconsin Central all crisscrossed. Amherst Station and Harris Station have disappeared but Chili remains.
According to "Romance of Wisconsin Place Names," authored by Robert E. Gard and L. E. Sorden, "one cold day" during the winter in the 1880s the railroad officials came to Chili for the purpose of selecting a name. "It was so cold they did not want to get out of the train so one of them said 'let's call this stop chilly because its really cold here.'"
The authors of the book however, do not explain how the spelling of "chili" came to vary from the accepted dictionary form.
Settlers took advantage of the productive soil, moving to better locations when the lumber barons left. Each succeeding generation has had outstanding farmers recognized through Future Farmers of America and 4-H members bringing honors as sons of the soil.
Three active churches are located in Chili – Christ Lutheran, St. Stephen's Catholic and Immanuel United Methodist. They provide various organizations for young and old alike. There is also a Boy Scout troop pitching in for the festivities.
In the earliest days settlers trod through the woods to do their trading. Even the Windfall cemetery at Granton has crumbling markers bearing the testimony of the days before Yolo cemetery was established at Chili, indicating their direction of communication.
Names have disappeared from the immediate area, like the Harding family with the impressive two story log house at the end of an improved road at the turn of the century. The road has become County Trunk H and is the main thoroughfare from Neillsville to Marshfield.
Chili has a modern elementary school which is part of the Marshfield Consolidated District. There is a dairy plant, hardware store, grocery, and a feed mill as well as a number of other business places. The community has an efficient sewage disposal system. The volunteer fire department includes 22 active men. It is an annual activity of the firemen to hold a street dance which is being included in the festivities this year.
This is definitely not a "one horse community" as Willis Stickert has proven time and again with his sleek Belgian draft horses appearing in parades.
The name of Chili gained state-wide recognition in 1958 when Barbara Haslow became Alice in Dairyland and again in 1968 when Sandra Meissner became Miss Wisconsin Rural Electrification. Sandra went on to claim the title of Miss National Rural Electrification the following year. It is proof that a small community can develop both poise and talent!
Everett Kauffman, the chairman of the town of Fremont, has devoted much time in collecting family profiles for a centennial book which will be ready for the big event.
Highlighting their two day centennial will be the mini-tractor pull this Saturday. In the evening there will be an annual street dance.
A big parade is scheduled for 1 o'clock Sunday along with a kiddie parade. In mid-afternoon the ball game begins. On both days there will be antiques exhibited in the fire hall, a flea market for bartering, and a carnival for all.